I'M SO HAPPY YOU'RE HERE
Hey, friends! My name is Noelle and I'm the founder, owner, maker, labeler, shipping department, curator, and everything in between for my business, Fleur & Luna (formerly Emerald City Wax Company). There are a lot of you who have seen the company grow and evolve into what it is today and I am forever grateful.I specialize in artisan scented wax melts as well as luxurious bath, body, and home products. All are made in small batches by hand by me. No two things look alike because of this —so you're going to get unique products every single time you order.
I've always been an artist but practical and here is where I can offer art on a practical and functional level. Art you can use. Art you can smell. Art that can scent your life and your memories. I make consumable art.
Five years in healthcare and a degree in InfoSec and Networking and I'm pouring wax for my own business. Who'd have thought my knowledge base for setting up servers and "have you tried turning it off and then on again" would land me my dream job in a completely unrelated field?!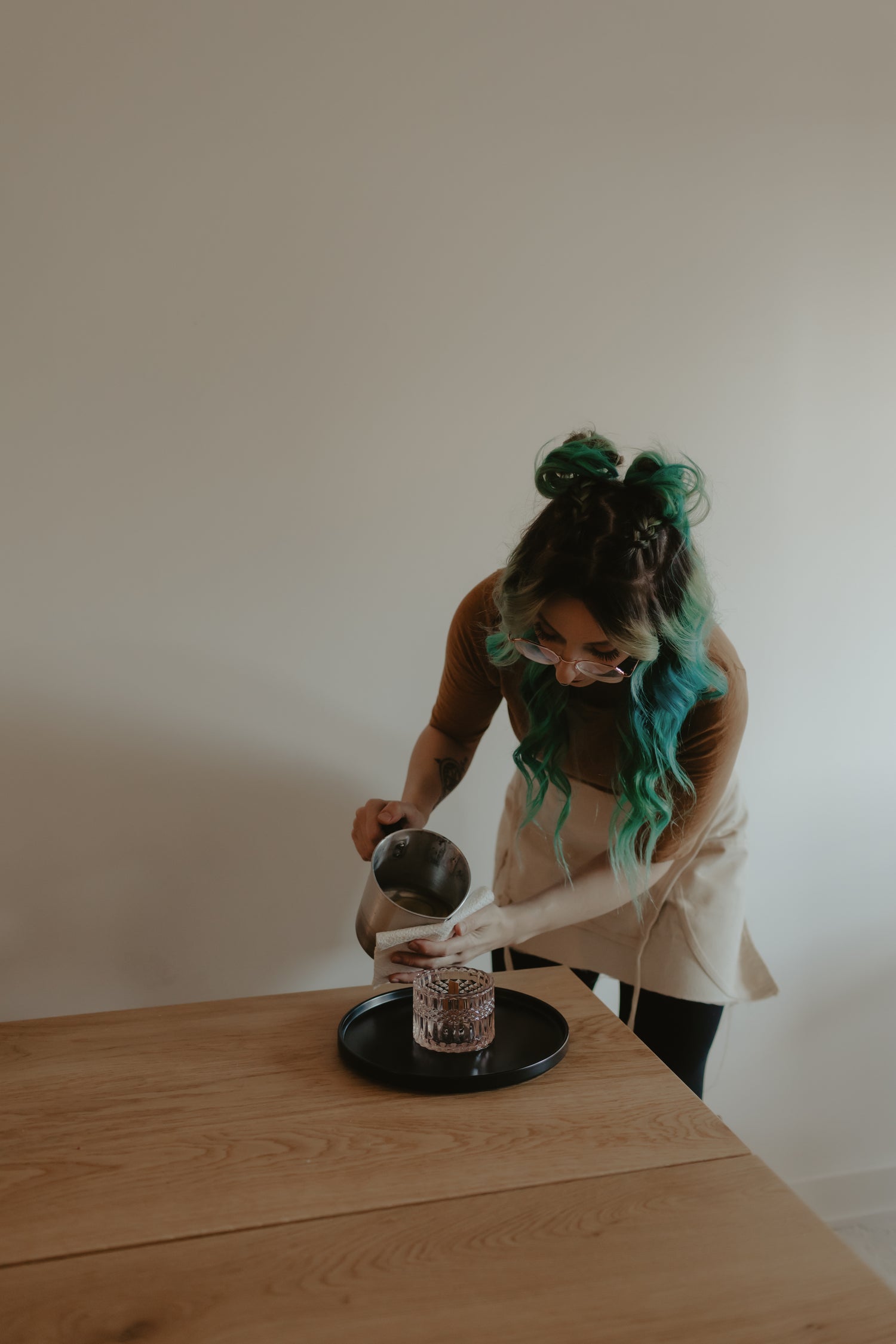 I LOVE WHAT I DO
After months of research and testing my own recipes I was ready to provide healthier quality wax melts and products for YOU. I use a proprietary blend of natural soy wax and paraffin together with fragrances I have verified are phthalate-free as well as pigments that are non-toxic.
If you didn't know, phthalates are toxic and are found in many store bought wax melts. In addition to phthalates, the vast majority of store bought melts are made of 100% paraffin. The number one complaint people make over big box wax melts are the incidence of headaches and migraines, me included. 
One of the biggest pros to purchasing my wax melts is many customers with scent sensitivities and easily triggered migraines have praised my products for not causing any of those symptoms for them. That is the biggest compliment and an achievement in my book. I'm so proud to be able to cater to those that fall in this demographic!
Thank you so much for supporting my dreams and offering me the opportunity to share my creative side with you! I wouldn't be here at this point in my career if it wasn't for each and every one of you. Thank you so much for supporting the Fleur & Luna brand!
LET'S SHOP